The DT6 was (and is) created with our customers in mind. Many of the recent additions to DT6 have come directly from customer requests. As a result, the analysis panel on the DT6 is packed full of unique features, as well as common "industry standard" ones. From entry-level analyst to seasoned veteran, the DT6's analysis screen will provide you with the answer that you are looking for.
The DT6 simultaneously captures ALL of the raw vibration data from 6 channels, allowing the manipulation to take place on the back-end. No setup is required. Ready to Add the DT6 to Your Team? Click Here to Contact Us.
DT6 Vibration & Phase Analyzer- Advanced Analysis/Diagnostics Panel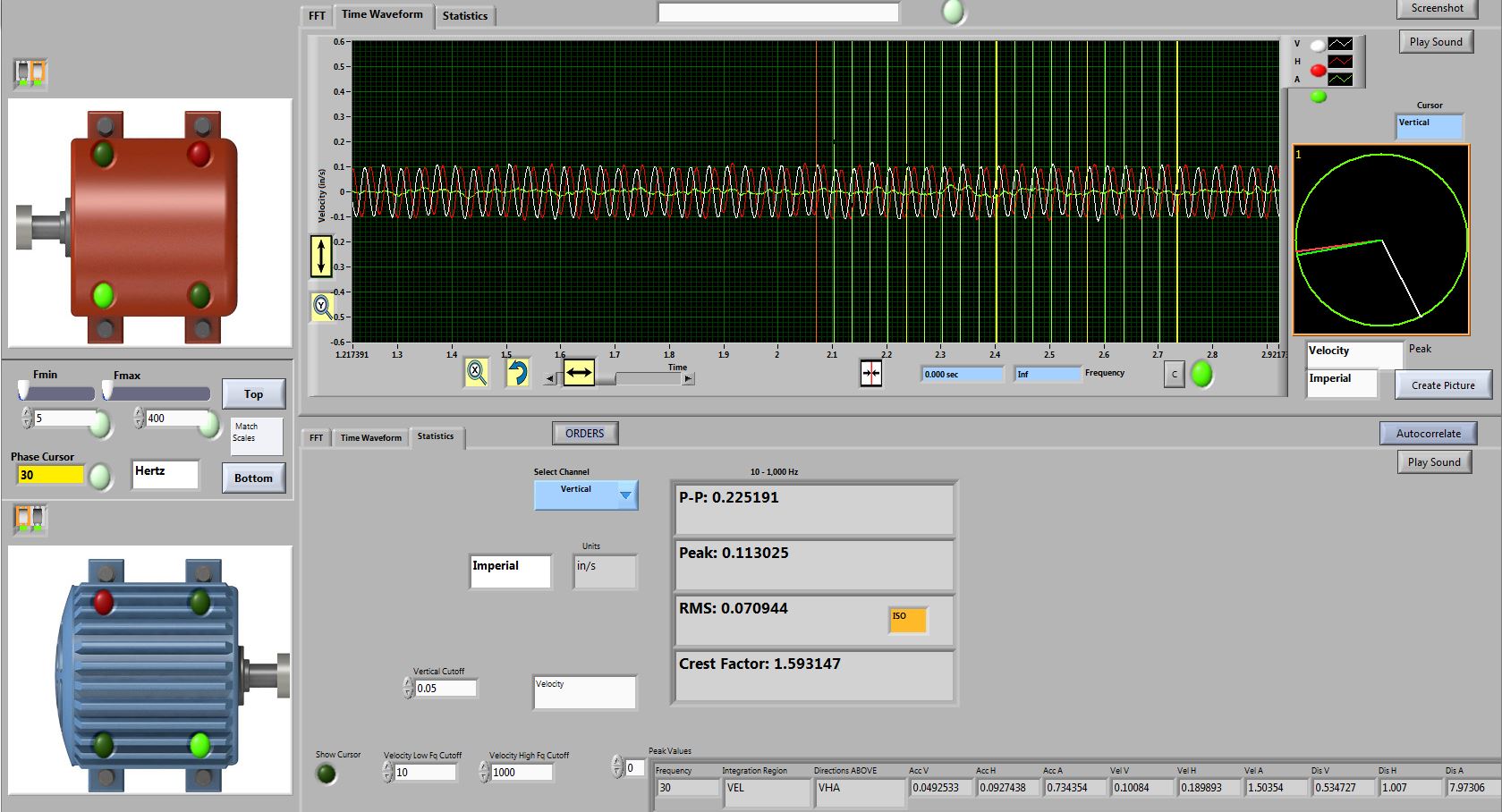 Analysis/Diagnostic Panel Features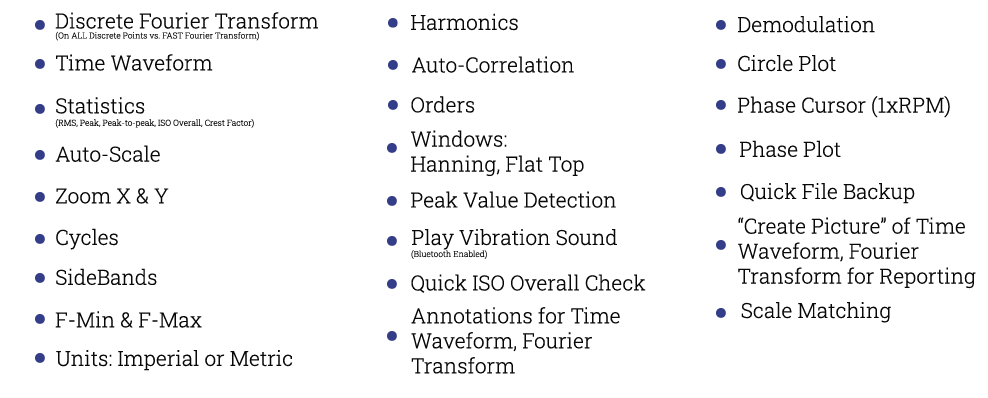 Intelligent Suggestions & Phase Diagram Population
Intelligent Suggestions & Phase Diagram Population is here to save you hours in the field. Let the DT6 do all of the hard work for you. Our Intelligent, Phase Based Suggestions* Panel will indicate the MOST LIKELY root cause of vibration.
Using Phase, Amplitude & a Point System the DT6 can indicate whether Imbalance or Misalignment (together make up about 90% of source vibration) is the MOST LIKELY cause of machinery vibration. It will even indicate resonance or a bent shaft as a possible problem.
* This is ONLY a suggestion to indicate the most likely course of vibration. If overall vibration levels are very low, source vibration is NOT a problem. Suggestions WILL indicate misalignment or imbalance even on machines with small overall vibration levels.
Amplitude Plots
Amplitude Plots will provide the various peak amplitudes for the vertical, horizontal, & axial positions for any point on the machine for which data was collected.
Auto Phase Balloon Diagram Propagation
Auto Phase Balloon Diagram Propagation will automatically complete any phase diagrams for which the necessary data was collected.
Amplitude & Phase Animation (APA)
Amplitude & Phase Animations can help further understand or explain the source of the vibration. Animations can also make it much easier to explain the problem and justify the need for a solution.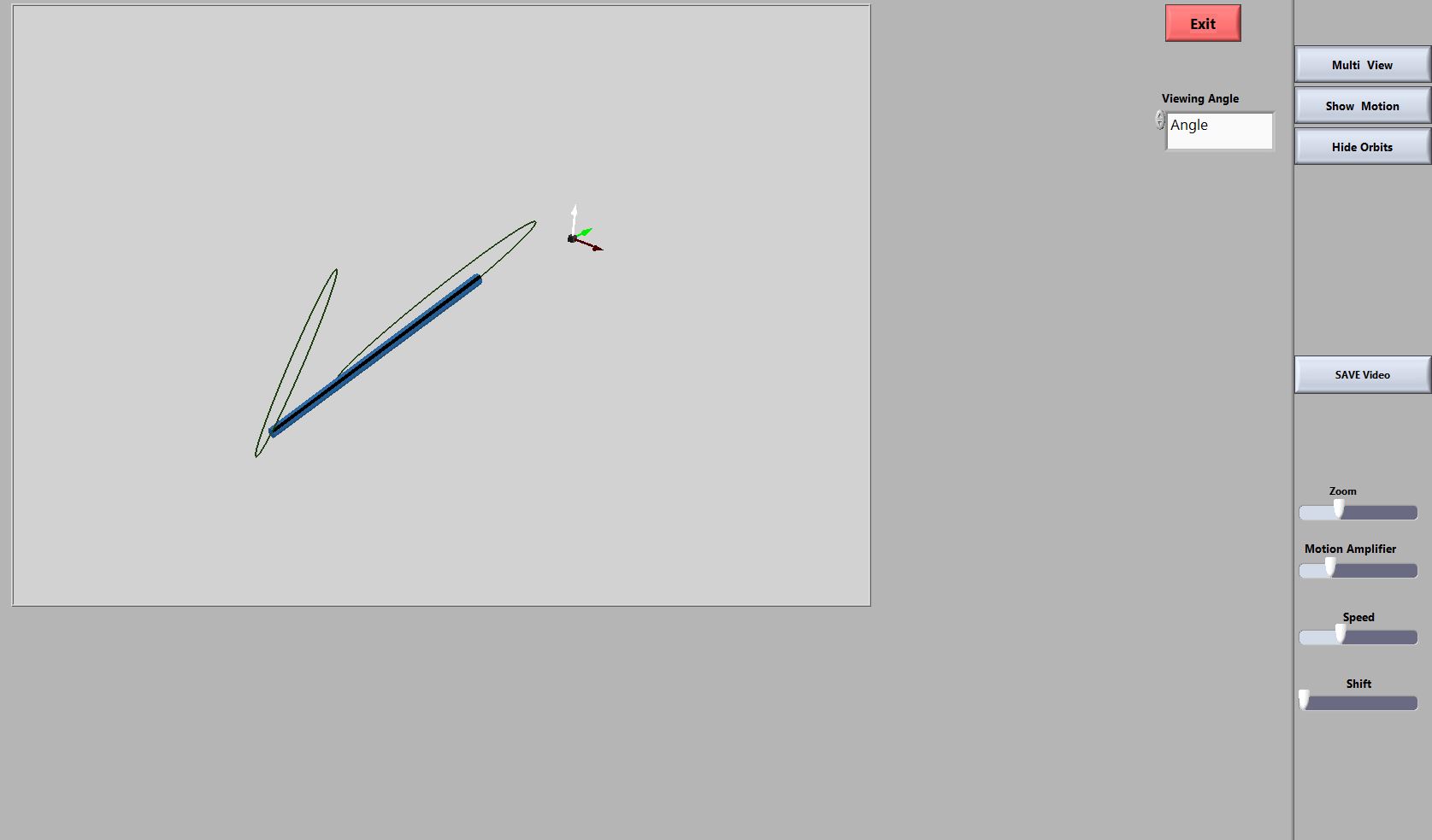 Advanced Orbit Analysis
Analyze the Shaft-End Orbits to help determine the root cause of vibration.

Run Up & Coast Down Test
Run Up & Coast Down Tests to help identify critical Resonant frequencies that could significantly impair equipment function and health. This will ONLY work with our Compatible Laser Tachometers.
WaterFall Plot
Check Machinery Health Trends over time to ensure your equipment is healthy and that you never have a surprise outage. Fully 3-D Navigable, Vibration Levels can be set and identified by color.
System Alarm Monitoring S.A.M.
The DT6 becomes a portable, and temporary constant monitoring/alarm system. Set the desired alarm bands and levels, then whenever the system measures a fault exceeding an alarm level, it saves all data from the last 60 seconds and continues on. This is invaluable for spotting transient vibrations, noticing system irregularities, and catching those critical signs of failure before it's too late!
S.A.M. can even be configured to send an email alert containing the vibration alarm data in a .txt (easy to open) format.
Live Data Mode
Real-time Vibration Data straight from the sensors to your screen. Quickly and easily perform bump & soft foot tests, resonance checks, watch for irregularities, or notice a major problem for the first time! Live Data Mode will save ALL raw data while running, once something is pointed out the data may be viewed, trimmed, and even stitched together in the analysis panel or ANY other analysis program. Even perform Impulse Transmittance Analysis.
Live Sensor Orientation Correction
Ensure Perfectly Accurate Vibration Data from the vertical/horizontal/axial channels by showing real-time sensor orientation corrections in all directions. The process is incredibly quick and easy to use, but drastically increases the end results of each of the Vertical/Horizontal/Axial vibration amplitude measurements as well as improves phase accuracy.
Ensure Repeatable Data!
Live Phase Plots
Plot & Capture Live Phase Data to help ensure you get the Full Picture on machinery health. Snapshot the data for easy use in reporting!
Multimedia Machinery Health Reports
Multimedia Reports will put any communication problems to rest. New functions in the DT6 allow the user to generate reports that will blow you away!

Routes & Machinery Asset Database
Machinery Asset Database & Route Runner- Run your entire program off the DT6. Our easy to use and comprehensive Asset Database is actually a portion of our Encompass™ Suite, or original software designed for running PDM a program! With a "Route" button on the home screen, it is easy to get going. Go "Off Route" at any time to work on machines outside of your route, then easily pick right back up where you left off. Asset Database starts with Company>Country>Location>Plant> etc so it is ready for even the largest asset databases. Using the Wifi capabilities of the tablets can allow route/database information to be easily shared/transferred between instruments and users. Easily use the Data Base to create future routes.
Adaptive Noise Cancelling
This EXTREMELY useful and unique technology has been around for many years helping to isolate signals and mitigate noise.
The DT6 offers two modes:
Self-Adaptive Noise Cancelling
will take the data and look for a consistent signal, removing anything that is random and significantly lowering the noise floor. Self-Adaptive Noise Cancelling will reduce the noise in a signal drastically, leaving much better data for analysis.
Adaptive Noise Cancelling
will use one sensor as the "target" and one sensor as the "reference". Say for example, you are trying to take a reading on a bearing next to a gearbox that is transmitting a lot of vibration. Place the "Reference" Sensor on the source of the extra vibration (in this case the gear box) and place the "Target" sensor on the part receiving the transmitted vibration (the bearing). DT6 will then iteratively remove the signals that are common in both sensors, leaving just the "Target" sensor data without any of the extra vibration from the gearbox.
This process can be extremely useful when noise is high or components are too close together to collect accurate readings. This is just one of many features unique to the DT6 that can be a complete game changer for analysts of any level. Ready to Add the DT6 to Your Team? Click Here to Contact Us.
Soft-Foot Check
Mechanics can now quickly & easily performing a post-install Foot Frame Resonance Test. This automated module takes the user through a step-by-step process for taking readings, obtaining foot data and interpreting any problems that may exist.
Optional DT6 Software & Hardware Add Ons
TrueBalance Field Balancing Software
This application will allow the user to perform balancing and analysis for a Single Plane or Dual Plane and Perform trim methods on each. TrueBalance includes the ability to use standard DT6 sensors for input, or the ability to manually type in numbers if the values are known. The system provides ISO and API balancing tolerances and can perform both regular and 4 run no phase methods for determining balance. Other features include weight splitting, reporting, metric and imperial units, rotating protractor or rotating reference mark, Influence Coefficients and Net Imbalance Phase plots.
OnTarget Universal Alignment Software
OnTarget Provides fast, easy & reliable calculation every time. It will show the actual alignment condition, progressive moves, thermal offsets, and tolerance window. Calculate alternative moves for bolt-bound or base-bound machines. Quickly access old alignment records and create/report comprehensive new ones.
Basic Laser Tachometer
Basic Laser Tachometer that DOES require an optical pickup to establish a phase reading
Advanced Laser Tachometer
High Frequency Transducer
The DT6 Difference
The DT6 acquires the FULL, raw spectrum data, from all 6 accelerometer channels. Instead of restricting the data from the beginning with Fmins/maxes and other "set up functions" the DT6 gets ALL relevant data and allows the user to interact with it as they choose. Instead of the standard Fast Fourier Transform only on selected points, the DT6 utilizes a Discrete Fourier Transform on all discrete points in the data. The resolution is determined by the amount of time taken for a reading.
Powerful Tri-Axial Accelerometers allow the DT6 to save a lot of time in the field. The DT6 will simultaneously pull and phase synchronize all 6 channels of vibration data.
The DT6 can function in almost any environment. Its rugged case and included pen allow the instrument to easily by used with gloves on and keep it safe from harm.
Manage Routes & Asset Databases all from the DT6! Run your program in a more succinct manner. Get even the largest asset databases at your fingertips and then program your own routes, right down to the measurement points.
DT6 PRO vs DT6 Basic Features